March 7, 2019
Are you a vintage whisperer? Can you feel the stories in the folds of faded fabrics or see courage in scuffed and battered surfaces… or is it just me?
Do you like to create or mend? If so, then perhaps this post will resonate a little with you?
This blog post started with three little words on a spontaneous instagram caption a few days ago... ⤵️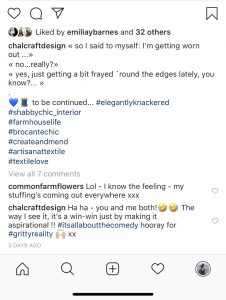 to be continued ...  So here it is:
She was right to be concerned... She'd seen so many friends tossed away, forgotten or dumped because they were either no longer fashionable or had become worn, wobbly or wounded; discarded sometimes, just because the space had become too cluttered with, what they call 'stuff'.  It was dawning on her that perhaps time was not on her side, and she didn't want to become "just stuff".